Ensuring the Warfighter is prepared to complete the mission!
CAGE: 61125
DUNS: 085172005
Product Testing
All products are carefully inspected and tested to ensure that they provide the performance you need and expect.  Echelon Supply and Service regularly performs proof-pressure tests, twist tests, burst tests, elongation tests, and longitudinal testing.
Our inspection procedures conform to MIL-I-45208 and/or ISO 9001:2015 standards, and we provide mil-spec packaging (MIL-STD-2073), mil-spec labeling (IAW MIL-STD-129), and reverse-engineered drawing services. Customized inspection systems are in place for special requirements.
Automated test facilities and precision equipment allow Echelon to test performance under heat, cold, pressure impact, and extended use.

Test Reports and Certifications Available for:
HydraulicTest to 30,000 PSI

Proof/Burst testing

Vacuum Testing

Twist

Elongation Testing

Inspection Procedure - MIL-I-45208

Underwater Leak Testing (Helium, Nitrogen)

One Hundred Ten Foot (110') Test Tank (3/16" ID -12" ID capability)

Hydrostatic Testing

Low Pressure (0 psi - 500 psi)

High Pressure (600 psi - 30,000 psi)

Air Testing (10-2,400 psi)

Inert gas testing (10 - 3,600 psi)

Vacuum Testing

Burst Testing - 4-foot pressure chamber to apply internal and external pressures

Pull test

Low Pressure (0 -1,500 Ibs)

High-pressure (1,501 - 5,000 Ibs)

Inspection procedure-MIL-I-45208

Underwater leak testing (Helium and Nitrogen are examples)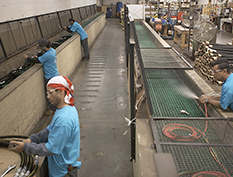 Edit content.
OUR SERVICES
No one is better equipped to support the warfighter than Echelon Supply. As North America's premier service provider of material conveyance systems and components, we support the government and prime contractors with unmatched responsiveness to ensure they're prepared to complete the mission.